CDL Driver's Needed
A reputable national company with a location in the Berwick area is looking for a couple enthusiastic over the road drivers to join their winning team!! Drivers will be doing 5-6 day workweek. Pay as a driving in a team .21/mile and solo is .33/mile. All stops are contract stops, so no loading/unloading of trucks and will be 1st to get unloaded when you have reached your destination. Stop time is about an hour. Runs will vary. Most of the plants are located in South FL, AL, and TX, but might do runs into NY, NJ, and PA.
Ideal candidate will be able to drive in a team, but also solo when needed. Must have 3 years experience, CDL HAZMAT certification along with tanker endorsements current on license. Must be able to provide 10 years job history, have no tickets or accidents in the last 3 years, and have knowledge of Xata logging system. Must have own personal cell phone.
CDL License, HAZMAT Certification, Tanker Endorsement, Xata Logging System
Martie Telepo
Branch Manager
Manpower
1201 B North Church Street
Hazle Township,
Pennsylvania, 18202
T: 570.450.6301
F: 570.614.2190
martie.telepo@na.manpower.com
www.manpower.com
Truck Drivers encounter a huge responsibility: they must drive heavy, expensive trucks. Load deliveries keep drivers away from home for long periods of time. There are factors such as noise, vibration, poor weather conditions or heavy traffic that may cause mental and physical...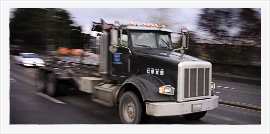 The high price of insurance makes it hard to get employment as a Truck Driver. Employment opportunities should be favorable for drivers. Many truck drivers find jobs in large metropolises or along major highways where retail, trucking and wholesale companies lean to have...