Truck Drivers
Having an effective transportation system is crucial for good economic conditions. Truck drivers deliver goods from the provider to the customer. Most truck drivers work for private carrier firms, contract carrier companies or common carrier companies. Local drivers usually deliver fruits and vegetables to canneries or products to construction sites. Most drivers load and unload the products.
Truck drivers have several responsibilities to consider. These responsibilities are highly connected to the product they have to deliver. They should know how to handle hazardous materials or how to feed and water animals. However, the chief responsibility of truck drivers is to deliver and trade their firm's goods over established routes or within an established district.
Truck Drivers encounter a huge responsibility: they must drive heavy, expensive trucks. Load deliveries keep drivers away from home for long periods of time. There are factors such as noise, vibration, poor weather conditions or heavy traffic that may cause mental and physical...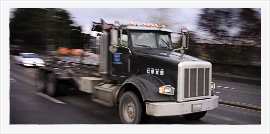 The high price of insurance makes it hard to get employment as a Truck Driver. Employment opportunities should be favorable for drivers. Many truck drivers find jobs in large metropolises or along major highways where retail, trucking and wholesale companies lean to have...